CNC, that is, numerical control machine tool technology, is mainly used in the production of bicycle parts to directly cut and process the whole aluminum alloy raw material into parts or their components under the control of computer programs. They accounted for a considerable proportion of American high-end mountain bike parts in the 1990s, but due to their relatively long age, high cost and low output, most of these products have been treasured by collectors and enthusiasts.
Known for their sharp, muscular appearance, CNC machining bike parts are also very reliable in strength. The colorful anodized surface treatment, together with the vigorous and powerful milling cutter traces left on the finished surface, made the American mountain bikes in the 1990s form a unique "CNC culture", and the parts processed by traditional injection molding, Formed a stark contrast. Not much to say, let's feast our eyes!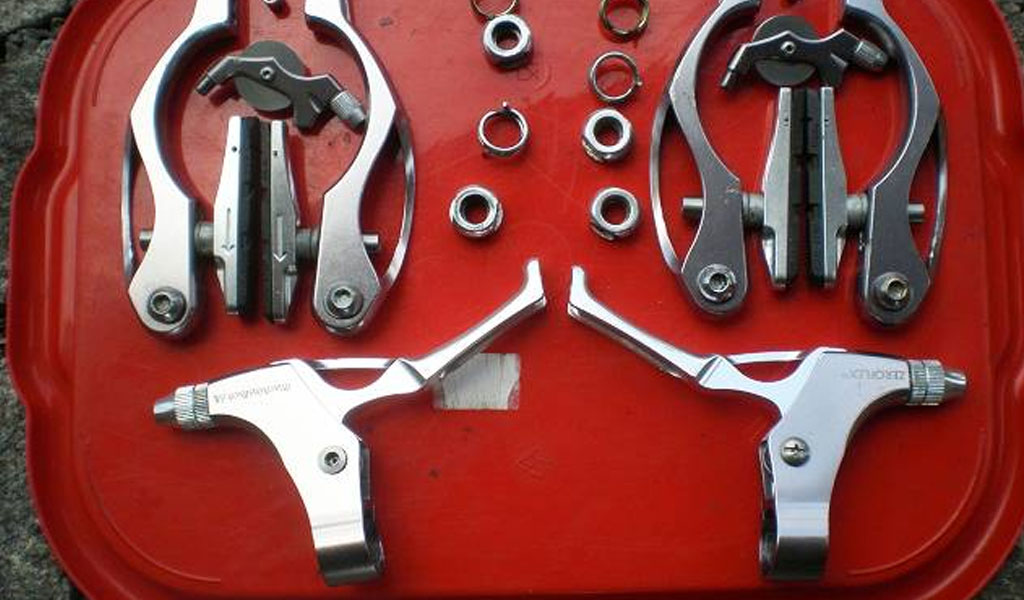 Are there only Shimano and Sram options for gear shifting and braking systems? Of course not, this Precision Billet kit, which was born in the mid-90s, is one of the masterpieces of American CNC style. With the anodized green paint, isn't it both "tough guy" and exquisite? This kit is a 3×8-speed system, including brake levers, V brakes, front and rear derailleurs, shifter handles, and an independent shifter mount that can be modified for Shimano XTR M900 series derailleur brake levers.
Until now, Paul Components parts have also been known for their refinement and reliability, such as its exquisite bottom bracket that makes it difficult to stuff it into the bottom bracket of the frame anyway. And in the '90s, Paul Components' CNC-style parts made their mark on the high-end mountain bike parts market. This group of highly collectible Jamaica Rasta color kits is a representative work of Paul Components in his 90s works.
Raceface has always been a representative brand of Canadian bicycle parts. This set of Raceface Turbine LP crankset and center shaft, which was born in the mid-to-late 1990s, established the design style of Raceface in the future until today. Tough CNC cutting process, coupled with rich red anodized plating, just like the fiery red maple leaf that symbolizes Canada
In this basket of "jewelry", the handlebars, stems, cranks, brake levers and discs are all Kooka's works. The brand's efforts in anodizing and weight reduction can be said to be the best among CNC parts in the 1990s. Extreme! Just like these "blue lightnings in the violet sky", gorgeous, light and delicate, these "gems" of Kooka were perfectly embedded in one mountain bike after another like a work of art in that era .
Machinetech was a flash in the pan among American mountain bike parts brands in the '90s. Its design style seems to be strong and strong, but you will be amazed at its lightness when you hold it in your hand. Although the output was very small, Machinetech's works uniquely occupied a place in that CNC era. Many of its products have been recognized as classics of that era by many collectors and enthusiasts.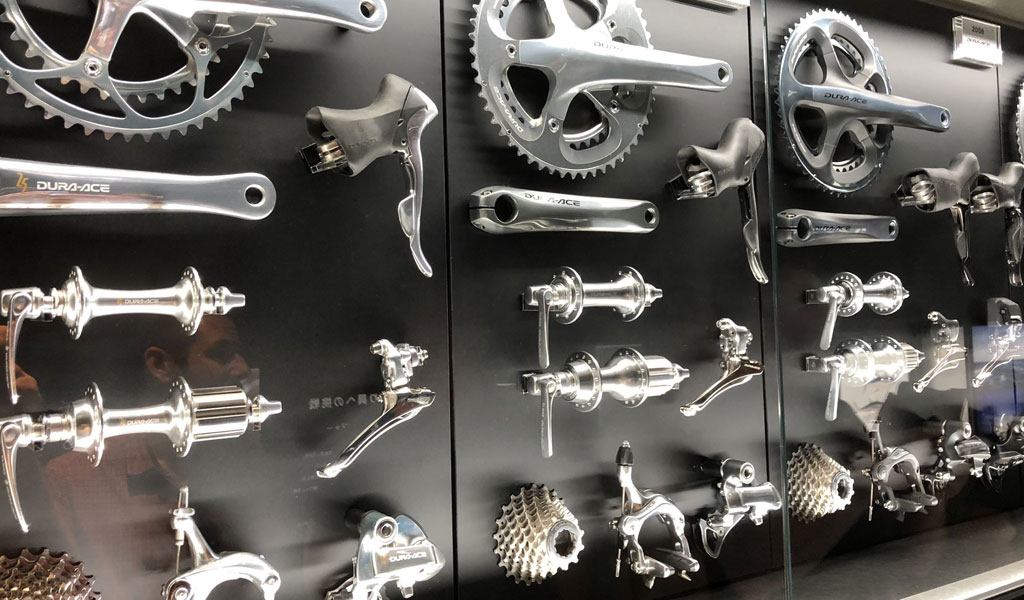 Manitou didn't hesitate to choose CNC technology for its forks in the 90s. For example, this Manitou EFC-DH, all parts cut in one piece, together with eye-catching painting, make its appearance domineering. The configuration specifications of the 20mm barrel shaft also tell people that it also followed the owner on the "heavy battlefield" 20 years ago in the "conquest of the south and north".
This Coda 701 crankset made by Cannondale has put a lot of effort into both materials and workmanship! Why do you say that? Please look carefully, the entire chainring + crank is completely CNC cut from a whole piece of aluminum alloy raw material, and no screws are used for assembly and connection! It can be said to be one of the masterpieces of CNC parts works!
Purple Ringle parts have always been extremely sought after by mountain bike enthusiasts in the 90s. Although CNC technology is also used, the design style and surface treatment of Ringle are more flexible and natural than those with full mechanical sense. The extraordinary performance also made Ringle a leader in the high-end parts of mountain bikes in the 1990s.
And WR compositi combined CNC technology with carbon fiber materials that were also applied to custom bicycle parts at that time, and manufactured these parts that represented the high-tech level at that time. When I see them now, I feel like looking back at those Computers 20 years ago not only represented advanced technological innovation concepts, but also gave people a retro feeling.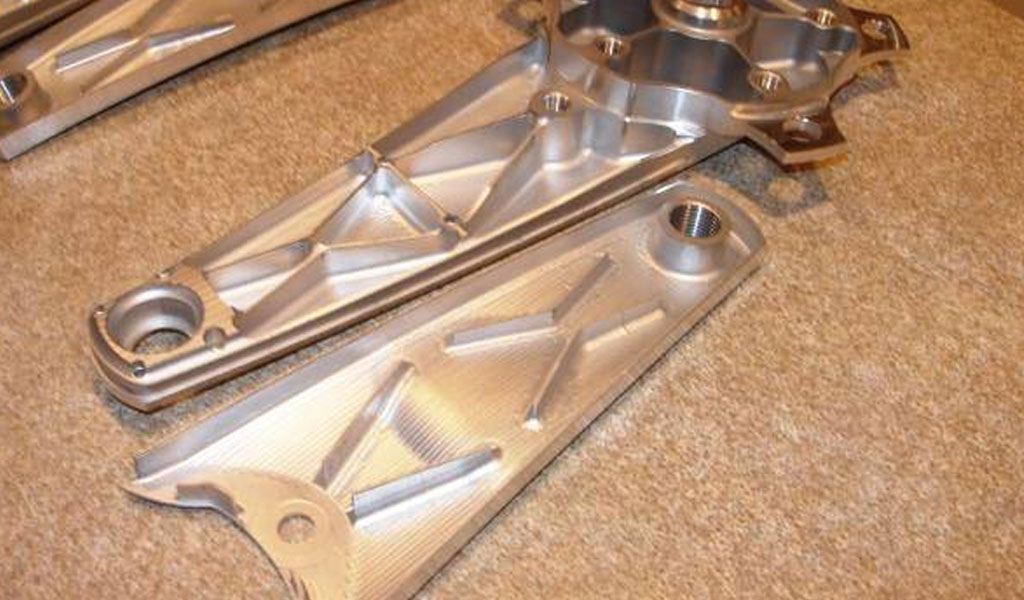 Many manufacturers also introduced CNC upgrade parts in that era. For example, this Rockshox Judy front fork, its fork bridge was upgraded to the CNC fork bridge specially customized by AC Adventure Components. The modified front fork is available in the Both strength and weight will have greater advantages than before. It can be seen that in the mountain bike parts of that era, CNC was really "pervasive".
At present, there are many collectors and enthusiasts all over the world, including China, who are madly in love with these eye-catching CNC mountain bike parts in the 1990s. They are like gems dotted in the golden age of mountain bike development. Although I haven't experienced it personally, whenever I take these exquisite parts in my hand and taste them carefully, I can't help expressing infinite admiration for the ingenuity and creativity contained in them.